Ethan McCall, a sophomore at Blooming Grove High School, recently tackled the requirements for his Eagle Scout service project – The undertaking? Planning, coordinating and implementing the installation of fencing and gates for Blooming Grove's Community Garden.
We recently sat down with Ethan to discuss the project.
What made you decide to do this particular project? The Eagle Scout rank is the final and most respected rank in scouting. The rank requirements are few, but difficult. One of these is to demonstrate my leadership skills by orchestrating what is known as an "Eagle Project". This is where the Blooming Grove Community Garden comes in. I pass by the garden almost every day, and had not seen a lot progress since its establishment in Spring of 2013. I saw this as a good opportunity to knock out two birds with one stone; completing my Eagle Project and benefiting my community.
Tell us about the process of doing your Eagle project. What were the steps you had to take in order to satisfy all the requirements? The very first thing I had to do was get my project approved by the city council. It was not hard to get on the agenda and go to the city council meeting. The council approved the project unanimously after my presentation. I sent it to my district representative (Trinity Woods) , who approved it as well, and began to get to work. I spent the next few weeks gathering materials and supplies, contacting people for labor and tools, and working on a schedule that would work out for everybody. Finally, we began work on Saturday, May 23. We worked all day, catching breaks when dodging the rainstorms. Most of the labor I had was from scouts in my troop. In about 8 hours we completed the fence. The only thing left to do is paperwork to send to Circle Ten Council (BSA).
Who was involved, and how? *Robert Phipps was the first person I talked to about the project. He helped a lot by giving me the rundown of the history of the garden and the work that had already been done. Additionally, he gave me a design of what the garden would look like when finished, which I used to draw the dimensions of the fence.  * Kasey McGraw was my project coach. He shared his knowledge of fence building with me and helped me to understand more of what I was getting into. He told me it would not be a fast or easy project (and boy was he right). We used his tools for most of the work. Anything from a pair of pliers or a hammer, to his chop saw, chainsaw, and welder. Kasey had also recommended that I get my fencing material from William's Gin; his brother, *Todd McGraw, manages the gin. Todd donated a roll of woven wire, and his generosity should not go unnoticed. I ended up gathering all materials (except for steel tubing) from William's Gin in Frost, TX. The people there were friendly and helpful. I acquired steel tubing from Navarro Pipe & Steel in Corsicana.  *Beth Nemeth, the secretary for the City of Blooming Grove was very kind and had checks prepared for me to purchase the required materials. *Marshall Harrison, our new Superintendent at Blooming Grove provided us lunch on the day of the project and cooked hamburgers, hot dogs and his famous home made cobbler. *The Central Baptist Church was kind enough to supply us with a table for our food and let us use their front entrance for cover from the rain. *Harry Dotson & Monica Patrick, along with the Blooming Grove FFA Ag Mechanic students built the front gate and will be installing it next week.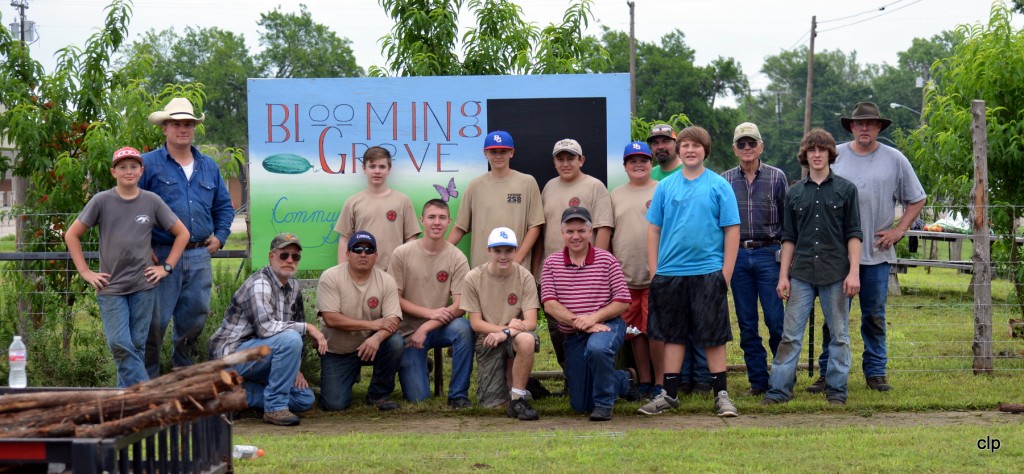 How was the project paid for?  When the Community Garden was started back in 2013, funds were donated by Atmos Energy, Lone Star Ag Credit, Blue Sky Country Real Estate and The Greenery Nursery in Waxahachie  to help get the project off the ground and towards building a fence. We were able to use the balance of those funds to pay for the materials needed for my project. Between those funds and the donations of material from Kasey and Todd McGraw, we were able to get it done.
What was the hardest part of the project? The hardest part of the project was getting everyone's schedule to work out. It was difficult to get my troop out due to the bad weather. I planned on having it done by the end of April, but that did not work out for everyone and the weather did not permit. I extended my goal to have it completed by the Blooming Grove Founder's Day Parade on the 30th. Eventually, we started and finished on the same day; Saturday, May 23.
What was the most rewarding part of the process? The most rewarding part of the process is yet to come. I will soon have my Eagle Scout Rank, making me eligible for many Scout related scholarships. In addition to scholarships, the Eagle Scout Rank is a personal goal of mine. Also, when I move away and come back to visit my mother after I graduate college, I will see the garden and can say, "I was a part of that".
What did you learn? I learned that organizing a project is no easy task. After completing this project, I have more respect for those who are in the construction or farming industries. I realize that these people do every day what I did in only one.
Any advice for future Scout's on doing their Eagle project? My advice for future Eagle Scouts: do not string your project out over the course of several months. It will get discouraging and you will want to quit early or cut parts of the project out. To truly get the full benefit of doing the project, you must do it to the best of your ability and to do what is most beneficial to the beneficiary. Stringing it out only discourages you from doing so.
What can you tell us about your troop? I am from Troop 258. We meet at First United Methodist Church in Corsicana from 7:00-8:00 on Monday evenings. There are currently 10 active youth members in our troop, and about 4 or 5 adults that are involved. I am the oldest youth in our troop, at 16 years old. We have three Life Scouts who still need their Eagle Projects. I hope that they will choose parts of the garden to improve. I think it would be awesome to have an "Eagle Scout Project Streak" (for lack of better term) at the Community Garden in Blooming Grove.
"Special thanks to: Todd McGraw, Kasey McGraw, Wendy McGraw, Robert Phipps, Cindy Phipps, William's Gin, Navarro Pipe & Steel, Marshall Harrison, Don Pointer, Susan McCall, Lance Miller, William Hill,  Ray Herrera, Curtis Stephens, Alva Lynn Smith, Harry Dotson, Monica Patrick and all of the Scouts and students that helped with my project on Saturday." – Ethan McCall

Scouts Involved:

Brady Miller, Daniel Grimes, Dylan McDonald, AJ Johnson, Matthew Herrera, Ethan McCall

Youths Involved:

Stephen Phipps, Kevin McCall, Seth McGraw, Brooke McGraw, Janey McGraw

Scout Leaders:

Lance Miller, Ray Herrera, William Hill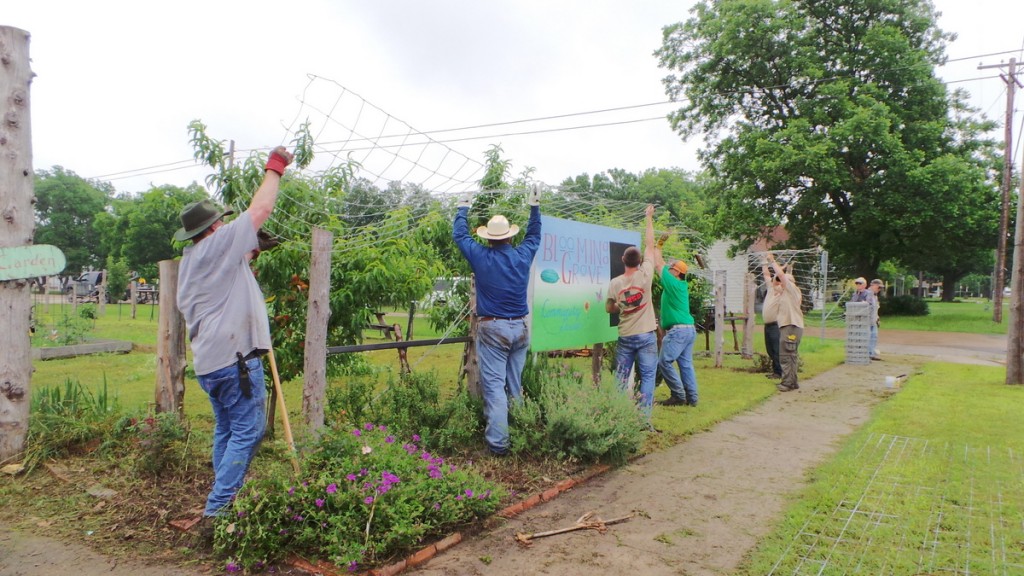 ---

Eagle Scout is the highest rank attainable in the Boy Scouting program of the Boy Scouts of America (BSA). A Scout who attains this rank is called an Eagle Scout or Eagle. Since its introduction in 1911, the Eagle Scout rank has been earned by more than two million young men.

Requirements include earning at least 21 merit badges and demonstrating Scout Spirit through the Boy Scout Oath and Law, service, and leadership. This includes an extensive service project that the Scout plans, organizes, leads, and manages. Eagle Scouts are presented with a medal and a badge that visibly recognizes the accomplishments of the Scout. – from Wikipedia
---
 

There are still many more projects to be done in the Community Garden, including an irrigation system, flagstone patio, cedar pergola, decomposed granite pathways and planting several varieties of edible fruit vines (grapes, blackberries and raspberries) and several additional fruit trees. Donations of time and money are welcome from individuals and businesses in the community. We currently have a goal of raising $5,000 in order to purchase the materials to complete the aforementioned projects. For more information on how you can get involved, contact Robert Phipps via email at Robert@BlueSkyCountry.com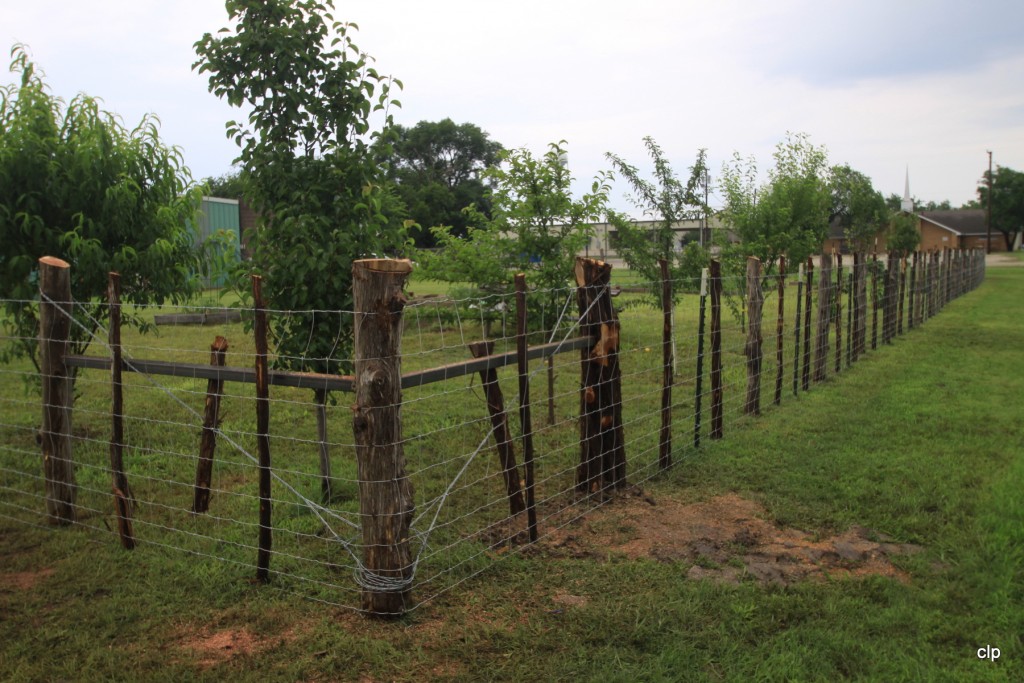 ---