Blooming Grove, Texas
 Nestled in the northwest corner of Navarro County, Blooming Grove has been likened to "a town that time forgot". You won't find any traffic jams, road rage, noise pollution, big business or big industry. You will find friendly people who wave to you whenever you drive or walk by. Good neighbors who look out for one another and help each other in times of need. Want to catch up on the latest news of the community? Just stop by the local convenience store and share a morning cup of coffee with the town's elders. You'll learn more there than you will from CNN or Fox News, that's for sure. The actual town and city limits of Blooming Grove is only one mile in diameter, with a population of approximately 850 people. However, the school district and community encompasses approximately 165 square miles of the county with a population in excess of 3800; therefore the City is actually serving approximately 2,000 on any given day. We are 1 hour from Dallas, 30 minutes to Waxahachie and 15 minutes to Corsicana, TX. With the population explosion and growth taking place in the big cities like Dallas, McKinney, Plano, Allen, etc, it's no wonder that some folks are starting to look for alternatives to the ordinary. People are finding that they can get a lot more house and land for their dollar, and a peace of mind and spirit that a small town and rural environment can afford. So if you're looking for a sanctuary from the rat race, look no more….Just click your heels three times and repeat the following words: "there's no place like Blooming Grove".
---
Blooming Grove is a town in Navarro County, Texas, in the United States. As of the 2000 census, the town population was 833.
Geography
Blooming Grove is located at 32°5′32″N 96°43′2″W (32.092084, -96.717088).
According to the United States Census Bureau, the town has a total area of 0.9 square miles (2.3 km2), all of it land.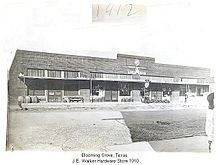 Walker's Hardware Store Fordyce ST Blooming Grove Texas
Blooming Grove, Texas
Town
Location of Blooming Grove, Texas
Coordinates: 32°5′32″N 96°43′2″WCoordinates: 32°5′32″N 96°43′2″W
Country
United States
State
Texas
County
Navarro
Area
 • Total
0.9 sq mi (2.2 km2)
 • Land
0.9 sq mi (2.2 km2)
 • Water
0.0 sq mi (0.0 km2)
Elevation
597 ft (182 m)
Population (2000)
 • Total
833
 • Density
975.1/sq mi (376.5/km2)
Time zone
Central (CST) (UTC-6)
 • Summer 
CDT (UTC-5)
ZIP code
76626
Area code(s)
903
FIPS code
48-08788
GNIS feature ID
1330882
Historical population
Census
%±
1880
79
—
1890
175
121.5%
1900
585
234.3%
1910
903
54.4%
1920
898
−0.6%
1930
771
−14.1%
1940
821
6.5%
1950
736
−10.4%
1960
729
−1.0%
1970
740
1.5%
1980
823
11.2%
1990
847
2.9%
2000
833
−1.7%
Est. 2008
927
Inside Walker Hardware 1912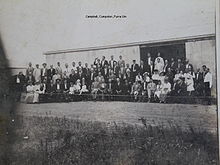 Campbell,Cumpston, Furra Cotton Gin Blooming Grove Texas
Demographics
As of the census of 2000, there were 833 people, 342 households, and 233 families residing in the town. The population density was 975.1 people per square mile (378.4/km²). There were 373 housing units at an average density of 436.6 per square mile (169.4/km²). The racial makeup of the town was 91.24% White, 5.28%African American, 0.36% Native American, 1.32% from other races, and 1.80% from two or more races. Hispanic or Latino of any race were 4.32% of the population.
There were 342 households out of which 31.9% had children under the age of 18 living with them, 54.1% were married couples living together, 11.1% had a female householder with no husband present, and 31.6% were non-families. 29.2% of all households were made up of individuals and 16.1% had someone living alone who was 65 years of age or older. The average household size was 2.44 and the average family size was 3.00.
In the town the population was spread out with 26.4% under the age of 18, 5.6% from 18 to 24, 29.8% from 25 to 44, 18.6% from 45 to 64, and 19.6% who were 65 years of age or older. The median age was 38 years. For every 100 females there were 83.1 males. For every 100 females age 18 and over, there were 81.4 males.
The median income for a household in the town was $32,375, and the median income for a family was $46,364. Males had a median income of $35,000 versus $22,059 for females. The per capita income for the town was $17,747. About 12.7% of families and 17.7% of the population were below the poverty line, including 17.6% of those under age 18 and 16.7% of those age 65 or over.
Education
Blooming Grove School picture.
The Town of Blooming Grove is served by the Blooming Grove Independent School District and home to the Blooming Grove High School Lions.