Welcome to the Navarro County Youth Expo (NCYE) 2015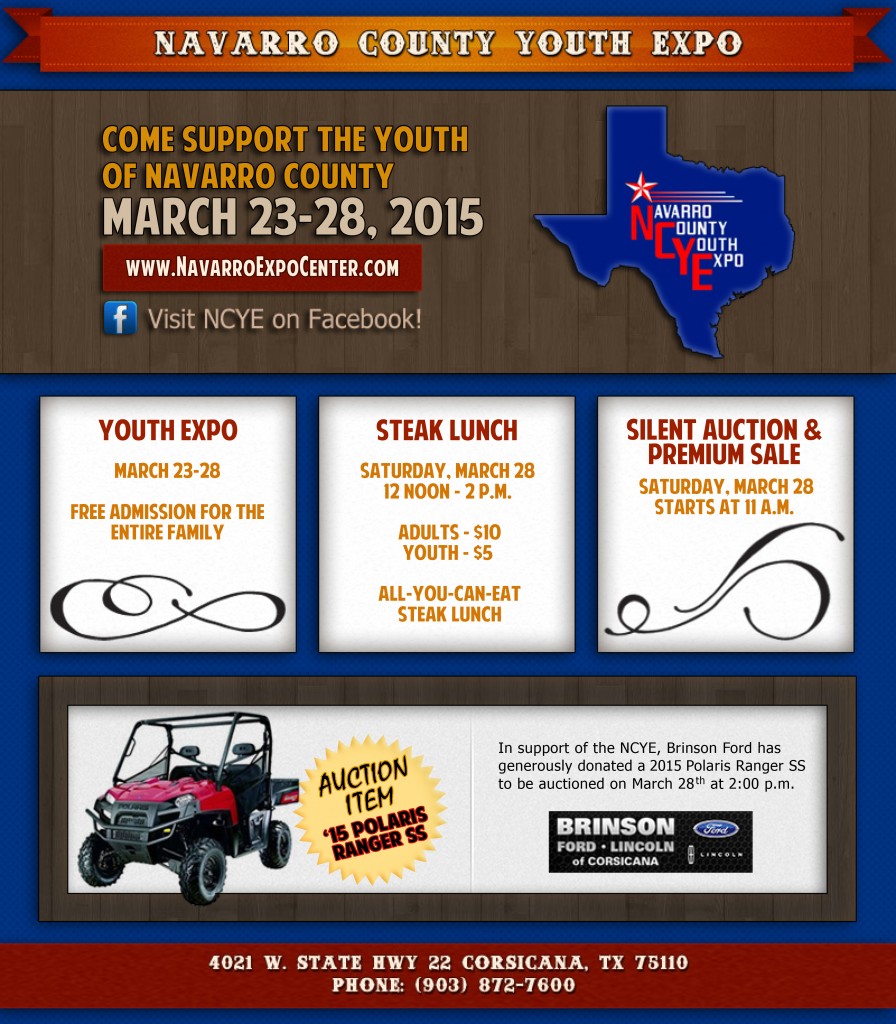 It is an honor to be a part of an amazing group of people who are focused on helping the youth of Navarro County. For over 55 years, that goal has been at the forefront of the efforts of so many folks and over the course of those many years, big things have been done in and for Navarro County's youth. The Navarro County Youth Exposition has played an extremely important role in our county for all of those years and will continue to do so for years to come.
We are excited to be a part of another year of tradition, adventure and rewards with the Navarro County Youth Exposition and we are excited to see the fruits of so many different people's hard work and dedication. It is our privilege to be a part of this great organization and serve as Co-Chairmen for 2015. We want to thank the students, parents, 4-H leaders, extension agents, agriculture advisors, business leaders, and all of the volunteers who help make the NCYE a success. Our supporters give selflessly of their time and money and we are forever grateful.
The NCYE touches adults and students alike from all areas. While the NCYE certainly impacts the lives of many children in Navarro County, this event is about much more than helping the youth of this county. It is about teaching responsibility, work ethic and a sense of pride. It is also about bringing families and friends together. This event is much more than one week long. It is a year- long investment that is highlighted by a few short days. It is about parents and their children working hard together and learning life lessons and about the rewards and hardships that come with any of life's important endeavors. It is about passing on tradition and education from generation to generation. It is about family, community and responsibility. It is our great joy to be able to be involved in the NCYE and to be a small part of continuing the legacy of the NCYE and all that it has stood for over the years.
Our hope is that you will be able to join us for the daily activities at the NCYE and experience for yourself the fun, fellowship and excitement. We also hope you will help us celebrate our successes at the conclusion of our week by attending our steak dinner and sale on Saturday March 28, 2015.
Again we appreciate and salute each of you!!!!
Pat Reed
Jody McSpadden