Written by Chris Forgey, Staff writer for BloomingGroveTX.com
Photos by Cindie Phipps, CindiePhipps.com
You Can't Win 'Em All

 

You can be good, you can even be great

But boy, I'll tell you what

You just can't win 'em all.

 

If you do what you should, you might even go to state

But to win every game

That's an order mighty tall.

 

You might win a row of ten, maybe even 48!

But somewhere down the line

You're bound to take a fall.

 

Our Lions are tough

They know their football.

They've got the right stuff

But you can't win 'em all.

 
Lions Fall to Life Oak Cliff in Thriller, 40-35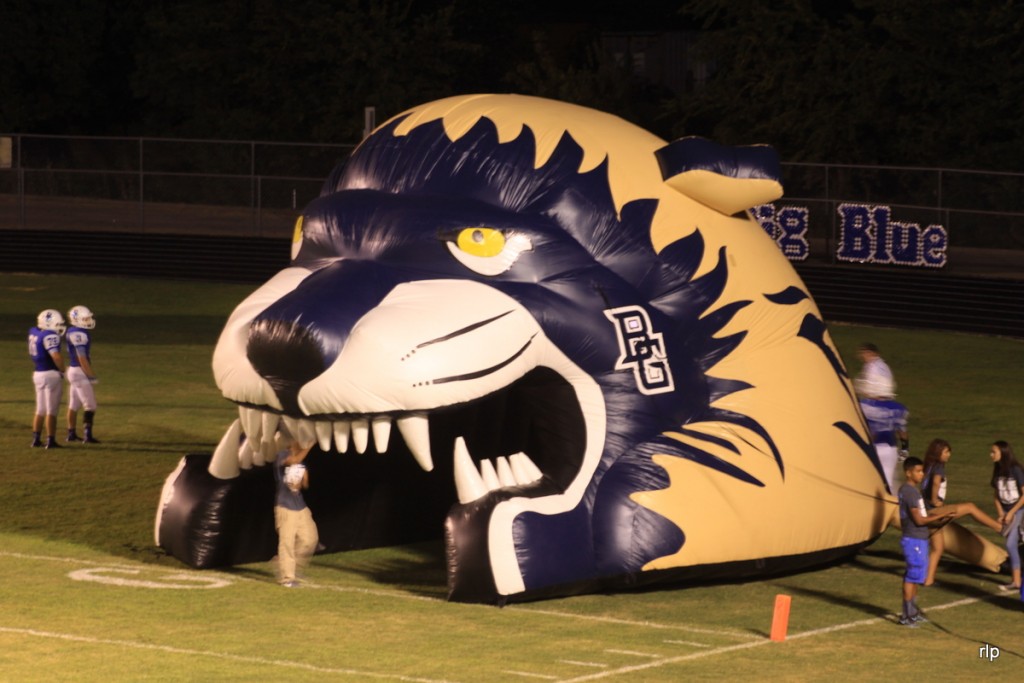 "It's going to be smash mouth football!".  These were the words of Coach Lawrence Williams prior to Friday night's game against the visiting Dallas Life Oak Cliff Lions.  Coach W knew what his team was in for.  After reviewing film of LOC mauling Maypearl in week 1 and seeing the size of their offensive and defensive lines, it was obvious that this was not the same team that lost to BG 47-12 in 2014.
The game began with Big Blue receiving the ball first.  After a handful of plays that saw BG penetrate into LOC territory, Juanya Pyburn uncharacteristically fumbled.  However, LOC's initial offensive series ended quickly and BG found themselves with the ball again at the LOC 35.  Pyburn immediately redeemed himself.  Breaking tackles and refusing to be denied, he scored the game's first TD.  After a trick play for a 2 pt conversion failed, BG was given another chance after a penalty but Tyler Baumgartner missed his first extra point of the season to keep the score at 6-0.
Next it was LOC's turn to score.  QB Christopher Fellows hit WR Alfredo Hector for a 51-yd TD catch and run.  With the Daniel Gonzales extra point LOC took the lead 7-6.
In the second quarter LOC was looking for more on a long pass play deep in BG territory that was intercepted by Sr. Brody Owens who took the ball 90 yards the other way for a thrilling pick six TD.
Owens, who was originally set to be the starting QB this season, did not play last against Dawson due to injury and played solely on defense Friday night.  Jr. Alex Tovar has taken all snaps at QB this season.  Brody had a very good game on defense against LOC.  There is still no known timeline on when or if he will take over at QB.
On LOC's ensuing possession the ball was snapped over Fellows' head for the first of two times, pinning LOC on their own 14.

Big Blue got the ball back soon after and Tyler Baumgartner made it 16-7 BG with a 28-yd FG.
On their next possession LOC wasted no time in answering with a stunning 35-yd TD catch by Kordell "Tillis" Talley, making the score 16-14 after the Gonzales PAT.  Jr. Erwin Luevano took the LOC kickoff and was having a nice return until the jar was popped loose and into the hands of Sr. Jordan Lynch who scampered in with a TD.  The freak play put LOC up 21-16.  Later in the quarter LOC was again looking for more points and for the second time in the game Fellows was intercepted by Brody Owens at the BG 10.  The first half ended with LOC up 21-16.
Both teams scored 19 points in the second half, each scoring three touchdowns but struggling to convert 2 pt conversions and extra points.  LOC scored a third unanswered TD on a 21-yd catch by Emanuel Reese to put LOC up 27-16.  Prior to that drive LOC kick returner Ahmad Muhammad almost took the kickoff all the way back but Erwin Luevano made a TD saving tackle.  After having a strong first half, LOC QB Christopher Fellows mysteriously was taken out of the game early in the second half and replaced with Sr. RJ Guzman.  Guzman didn't miss a beat, picking up right where Fellows left off.  The two QBs combined to complete 15 of 22 passes to eight different receivers and five passing touchdowns.
Down 27-16 with a first down at their own 25, BG began their most important drive of the game, desperately needing a score.  So they went to work with a series of effective running plays right up the gut of the LOC defense.  Pyburn romped through the LOC defense on the biggest play of the drive, carrying the pile to the LOC 10.
On the next play Alex Tovar took it in to put BG within four, 27-23.
Sr. Michael Couch had a huge interception on the next drive, giving BG the ball at the LOC 35.
A few plays later Sr. Jarod Obenour scored on a 10-yd run to put BG ahead 29-27.
LOC lost another fumble on their next possession when Juanya Pyburn fell on the loose ball on a busted play.  However, BG was not able to capitalize.  On their next possession LOC took back the lead 34-29 on a 20-yd TD catch by Emanual Reese.  Late in the third quarter Sr. Taylor Gonzalez muscled the ball away from an LOC kick returner at midfield but Big Blue was again unable to make it pay off on offense.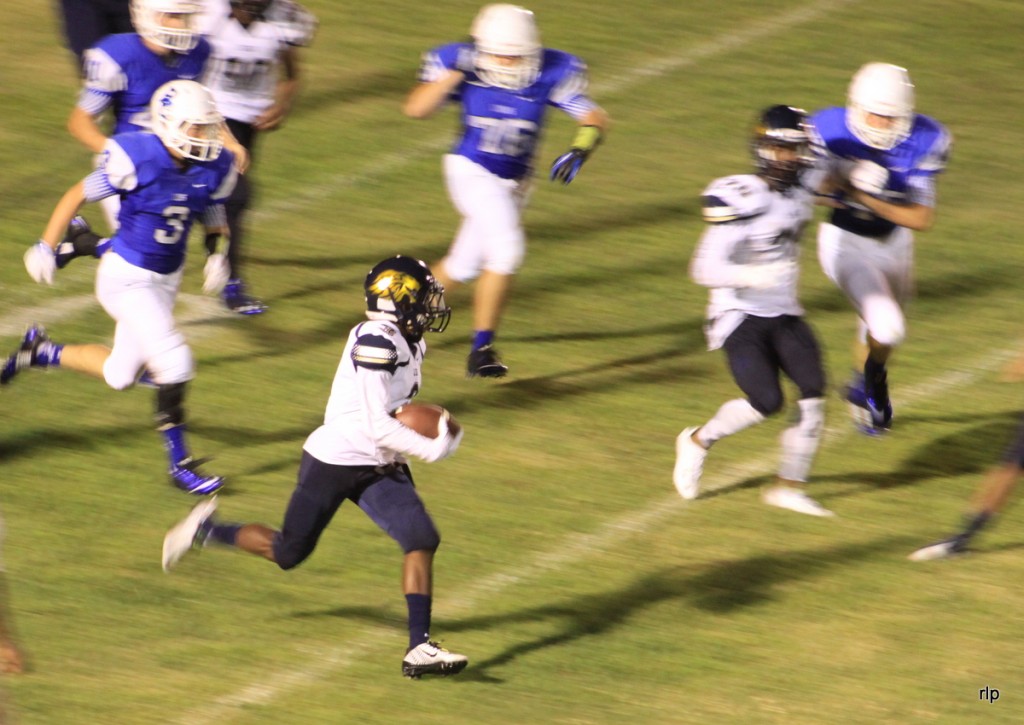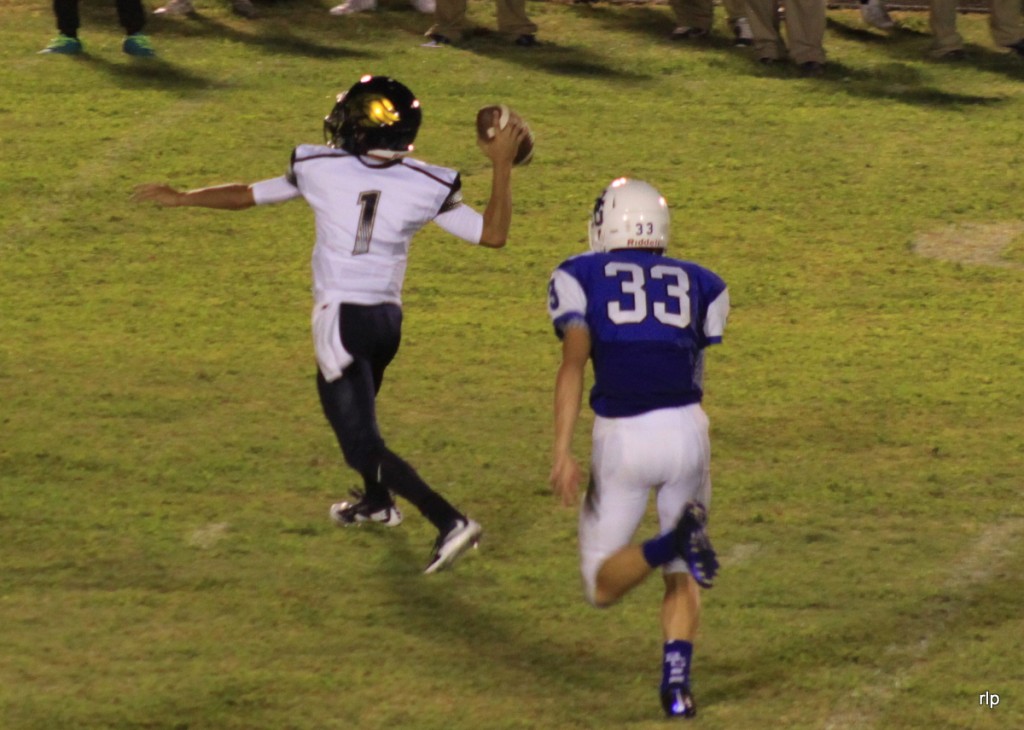 In the 4th quarter Juanya Pyburn gave BG the lead for the last time with a 2-yd TD run.  Up 35-34 midway through the fourth quarter, LOC took the lead for good on a 35-yd TD catch by So. Jaquan Tatum.  Late in the game, BG Jr. David Dilbeck gave the hometown Lions one more chance with an interception.  But after a series of conservative plays on offense Blooming Grove gave up the ball on downs and the game was over.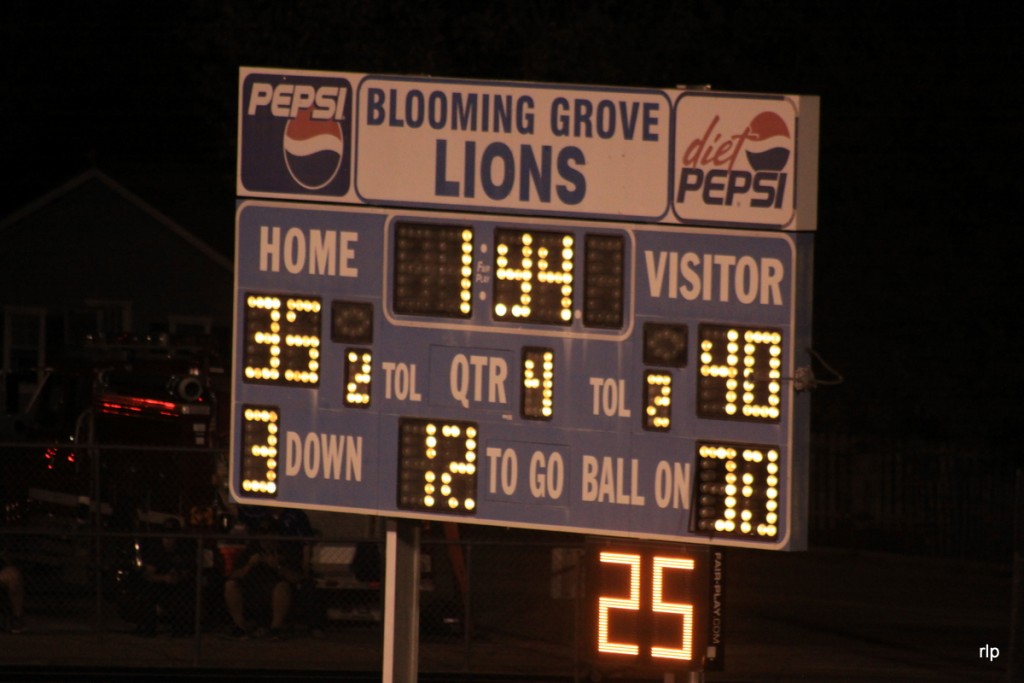 The Life Oak Cliff Lions, coached for the second year by Carlos Turner, are now a force to be reckoned with.  After a disappointing 3-7 season in 2014, Coach Turner has turned this team completely around.  They have 16 returning seniors, an offensive line with at least three 300+ pound players, a huge defensive line and two very capable QBs with an assortment of speedy receivers who don't drop passes and can fly downfield in a heartbeat.  The game was exciting, featuring seven lead changes and many big plays for both teams, but it was not an efficient game and, at times, downright sloppy.  Both teams had multiple turnovers.  Special teams were not at their best and failed to convert and protect the football.  Even though the teams combined for 75 points the game was also very much a battle for field position.  BG found themselves faced with key decisions on several drives that stalled deep in their own territory, yielding few first downs when they needed them most.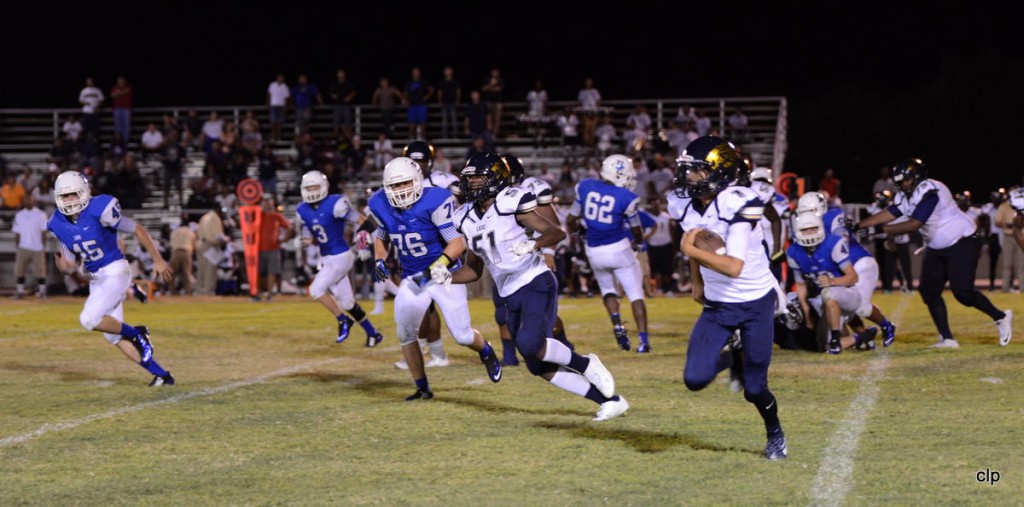 Blooming Grove (1-1) goes back to work next week, hosting the Italy Gladiators (0-2) who lost to Maypearl on Friday, 31-0.  It'll be Big Blue's homecoming and they will look to get right against a team that has struggled so far in this young season.  BG pounded Italy 48-0 last year.
Our production crew helpers this week were all sophomores: Heath Perry (camera), Travis Berryhill and Ethan Witten.
Chris Forgey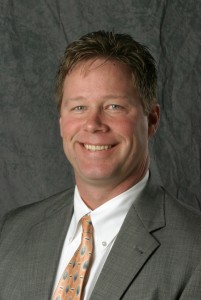 Brought to you by: