By Chris Forgey
BloomingGroveTX.com
New Season Looks To Be Pleasin'
The brand new season looks to be pleasin'

Giving fans reason to shout!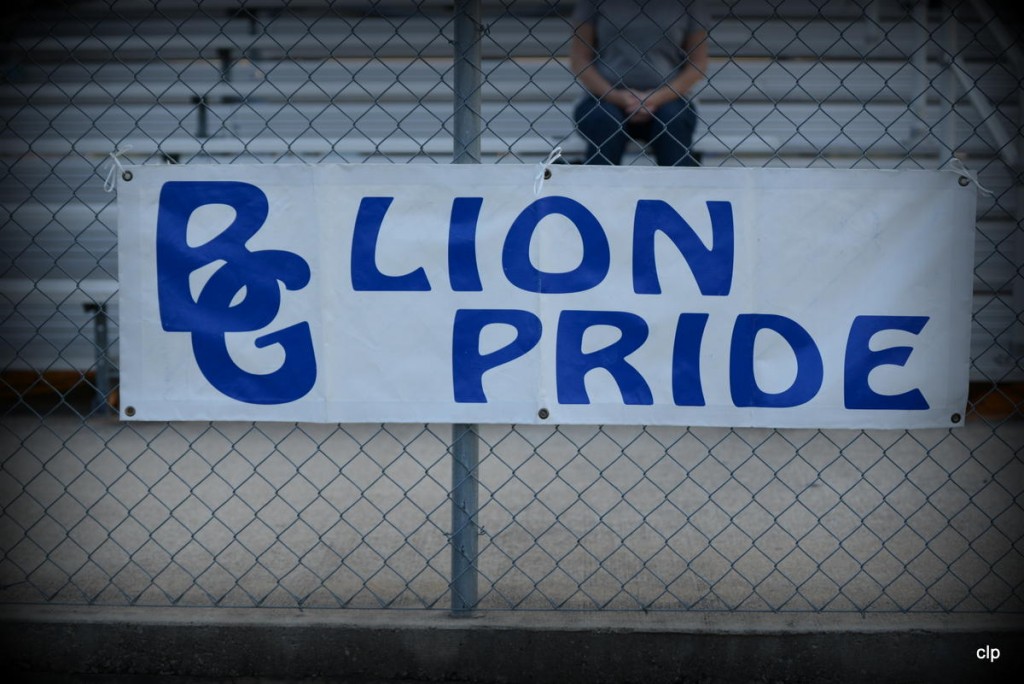 Big Blue Lions roared in victory

Was there ever any doubt?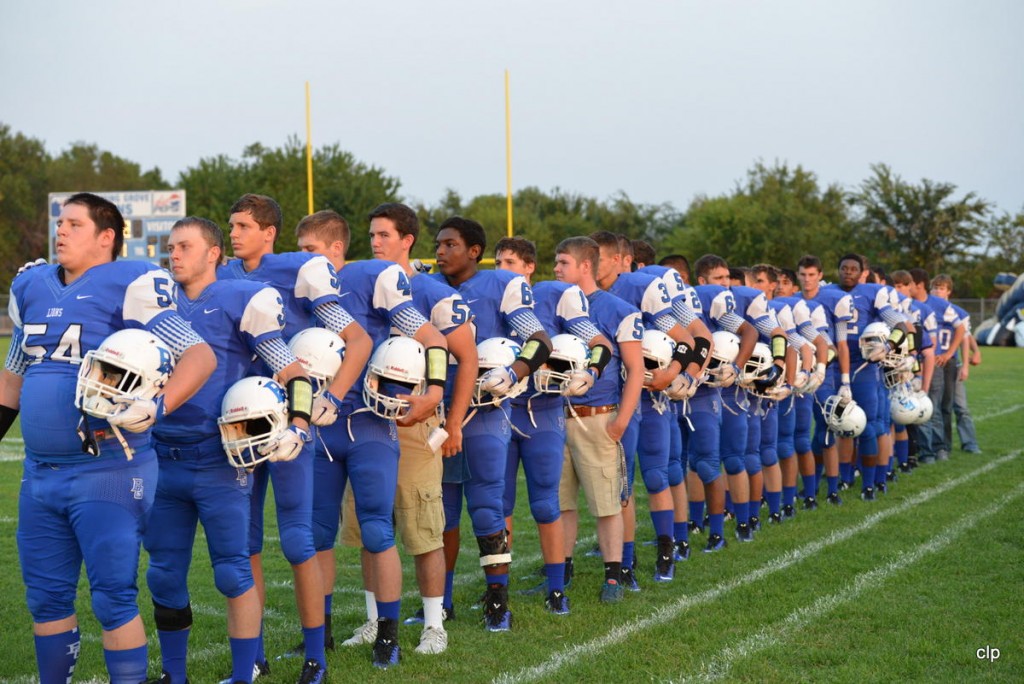 Friday night lights were bright once again

As the full moon rose in the sky.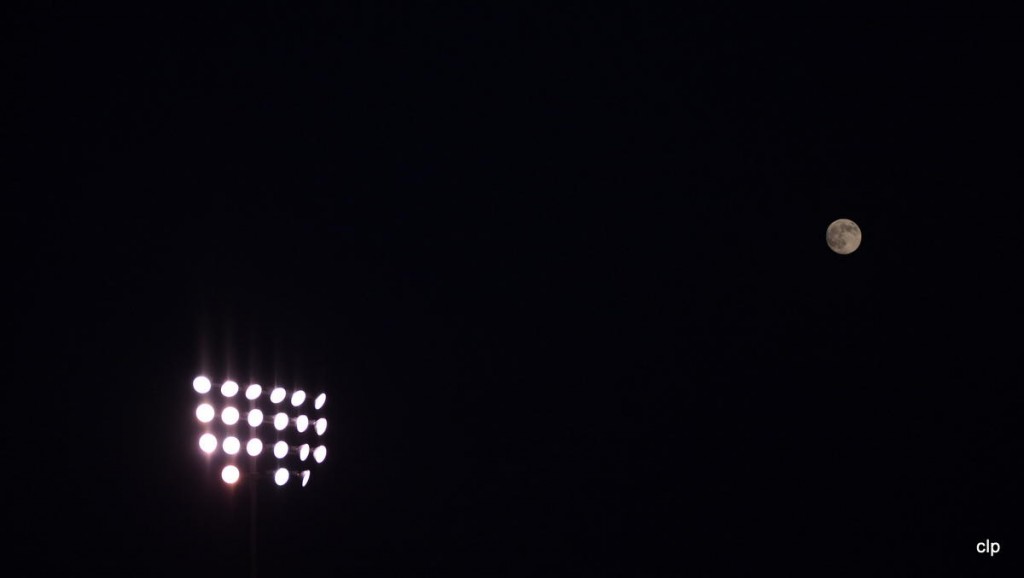 Cheerleaders, band members, family and friends

Supporting Blooming Grove High!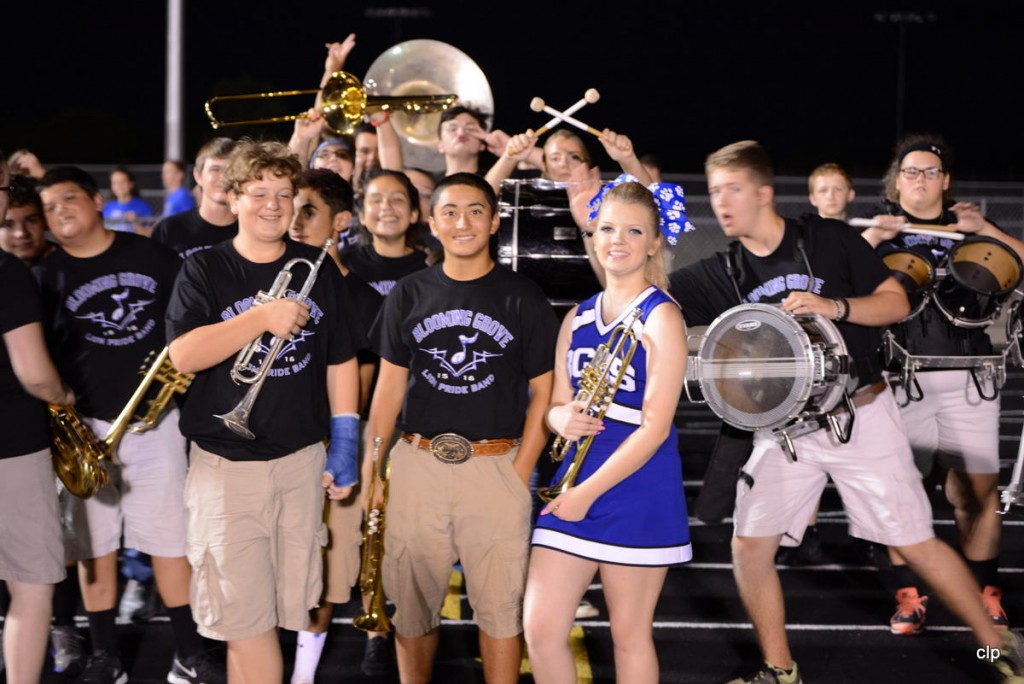 Alex didn't panic, Tyler's automatic

And Juanya is simply the best.

Jarod and Erwin and the D&O lines!

The whole team was up for the test.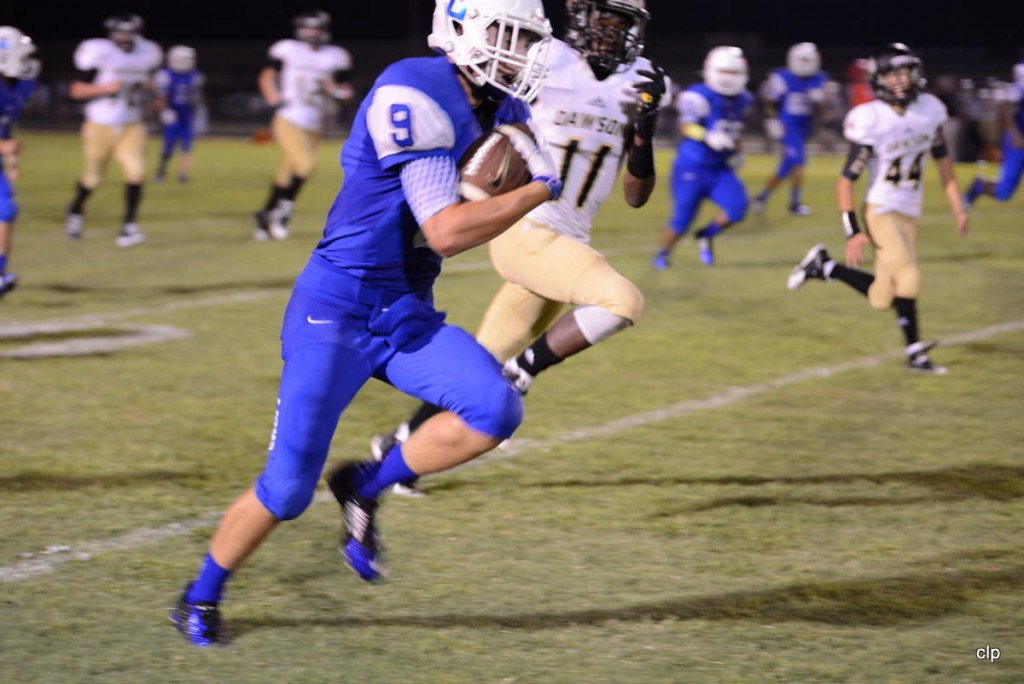 Next week's opponent comes from Big D

Lookin' to settle a score.

Dawson found out and so will Life OC

That the Lions are ready to roar!
Lions Open Season With Big Win Over Dawson
The Blooming Grove Lions kicked off their 2015 season with a 30-point victory over the visiting Dawson Bulldogs in the non-district season opener for both teams on Friday night.  The Bulldogs came to town looking to avenge last years' 58-8 loss on opening night of the 2014 season which saw the Bulldogs finish with no wins and 10 losses.
BG got the ball first and quickly drove 52 yards for the first score of the game, a 5-yd TD run by QB Alex Tovar.  Tyler Baumgartner, who was automatic all night on seven PATs, split the uprights to make the score 7-0 Blooming Grove.  On their first play from scrimmage, the Bulldogs' Anthony Blair took a handoff from QB Lane Dotson and ran 57 yards to the BG 28-yd line.  On 4th down deep in BG territory, Dotson and WR Josh Summers seemingly connected on a spectacular pass and catch in the BG end zone that was called incomplete by the officials.  BG took over on downs but were not able to capitalize on their ensuing drive, fumbling on an Alex Tovar handoff at the Dawson 34.  The first quarter ended with BG up 7-0.
In the second quarter the Lions got their offense in gear and took over the game with several big plays and efficient drives.  Jarod Obenour scored on a 5-yd TD run to put BG up 14-0.  On their next offensive drive BG made it 21-0 on a Juanya Pyburn 23-yd TD run.  Midway through the second quarter Dawson started to get their offense going with a couple of long drives.  Josh Summers had a 54-yd catch and run that almost went for a TD.  Lane Dotson eventually scored on a 1-yd scamper to get the Bulldogs on the board.  The PAT failed, leaving the score 21-6 in favor of BG.  Coach Lawrence Williams rested his star player, Pyburn, for much of the game but when he was on the field he was electric.  Juanya scored on a 43-yd TD run after taking off a couple of series to make it 28-6 Lions.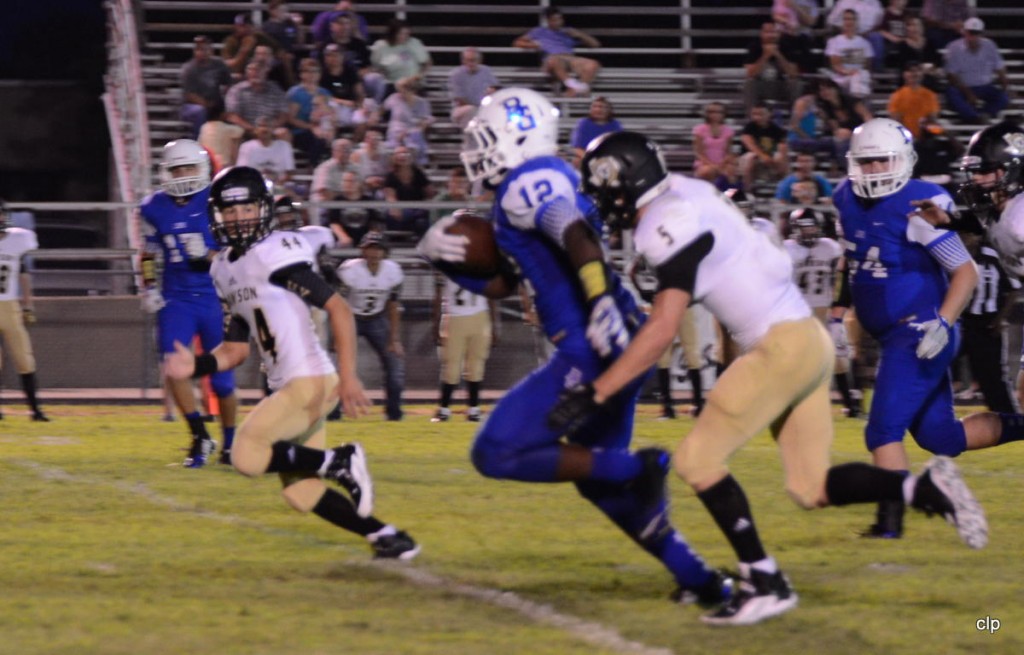 He was rested some more after scoring his second consecutive touchdown.  The Bulldogs answered with two more very nice catches by Josh Summers and an Anthony Blair 6-yd TD run to make it 28-12, followed by a failed Bulldog attempt on a 2-pt conversion.  Dawson struggled on special teams most of the game, giving up crucial yards and turning the ball over in addition to a missed PAT and 2-pt conversion.  With 10 seconds to go in the half, BG had the ball at their own 40.  With time running out, Tovar threw a little pass to Pyburn who broke eight tackles on his way to a 60-yd TD.  Pyburn would finish the first half with three touchdowns and over 200 all-purpose yards including 138 yards rushing on four attempts, an average of just under 35 yards per rush.  The score at halftime was 35-12 Blooming Grove.
On the opening kickoff in the second half BG solidified their claim for this game.  With the Dawson special teams receivers treating the football as if it were a "hot potato", Erwin Luevano recovered the live ball at the Dawson 9-yd line.  Four plays later Pyburn scored his fourth TD on the night with a 3-yd run to put BG up 42-12.  Dawson got the ball back and had another long and impressive drive deep into BG territory.  However, it was stopped short when Luevano, a Junior who is new to the varsity team, intercepted QB Lane Dotson at the BG 6-yd line.  BG later scored on a Baumgartner 72-yd screen pass for a TD, putting the Lions in complete control 49-12.
Dawson's Anthony Blair scored on a short TD run in the fourth quarter to cut the Lions' lead to 49-19.  Coach Williams conservatively ran out the clock the rest of the game with multiple time-consuming runs and short pass plays.  When the final horn sounded Big Blue had won the game 49-19.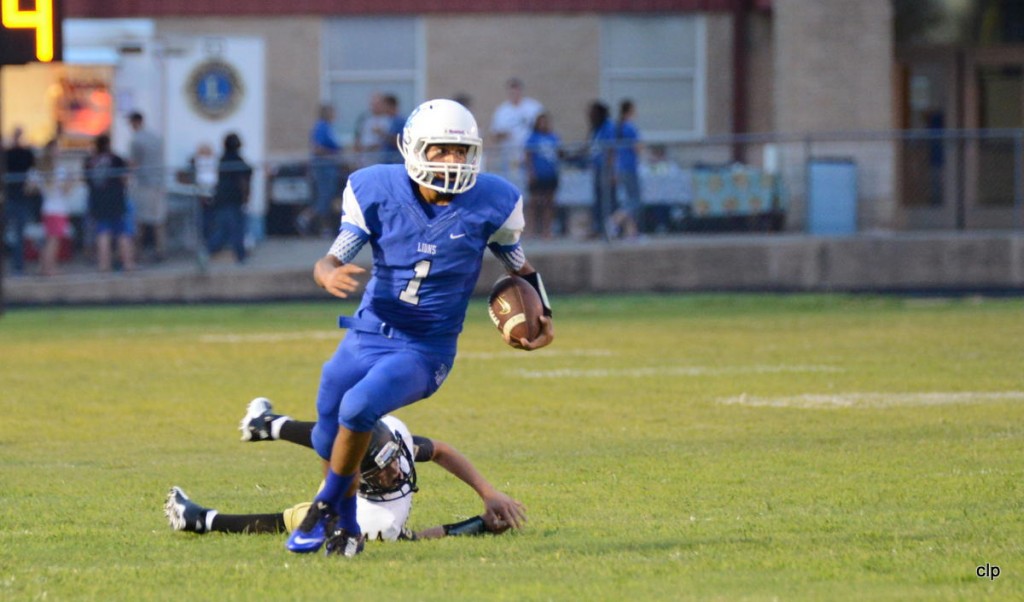 Jr. Alex Tovar was impressive in steering the Lions offense.  Tovar, filling in for injured starting QB Brody Owens, was poised and seemed very comfortable for most of the game.  Jr. Erwin Luevano was a force on offense, defense and special teams.  Luevano, a transfer to Blooming Grove from Woodrow Wilson HS in Dallas, was a key contributor throughout the game.  The Big Blue offensive and defensive lines were both very effective, creating holes on offense and penetrating the Dawson O-line to keep the Bulldogs' ground game in check.
The Lions didn't suffer any known injuries in the game.  However, the Bulldogs had multiple injuries to many of their key players, especially in the second half.  None of the Dawson injuries looked to be serious as all players returned to the game.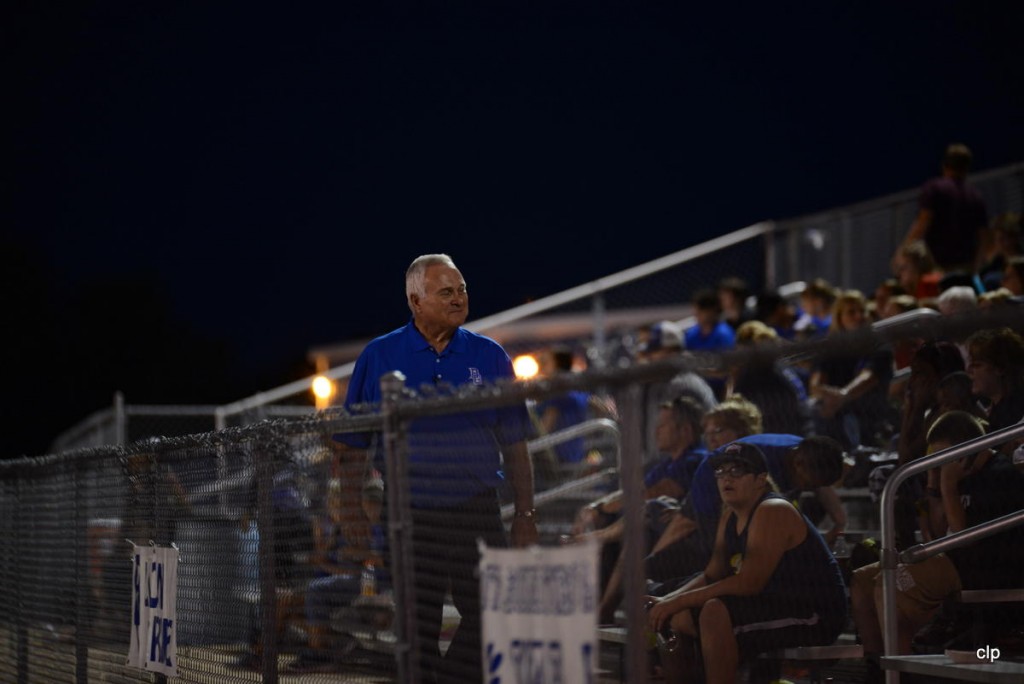 Big Blue's next opponent is Dallas Life Oak Cliff, who's mascot name is also the Lions.  The game will be played at BG Stadium on Friday, September 4th at 7:30 pm.  In week 2 of the 2014 season, Blooming Grove blasted Life OC by a score of 47-12.  Life OC went 3-7 last year but they come to town next week 1-0 after defeating Maypearl 21-13 in their opener on Friday night.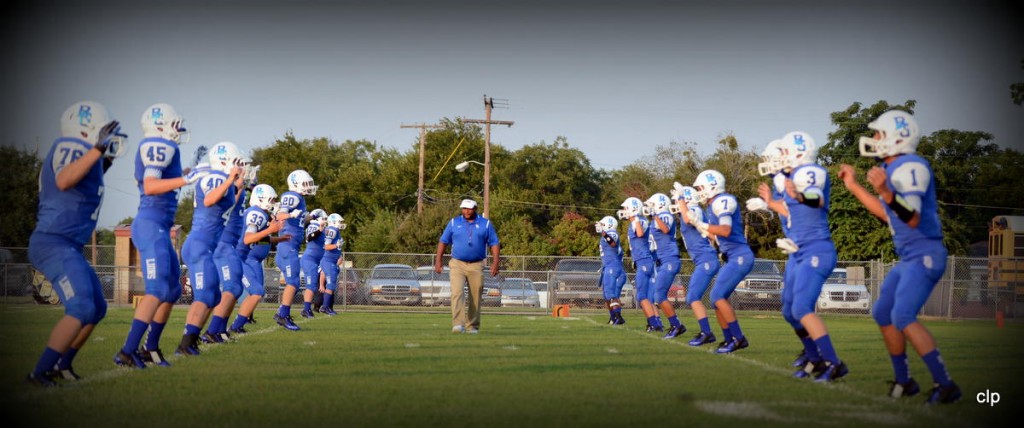 SCORING BY QUARTERS
                                1              2              3              4              T
Bulldogs              0              12           0              7              19
Lions                     7              28           14           0              49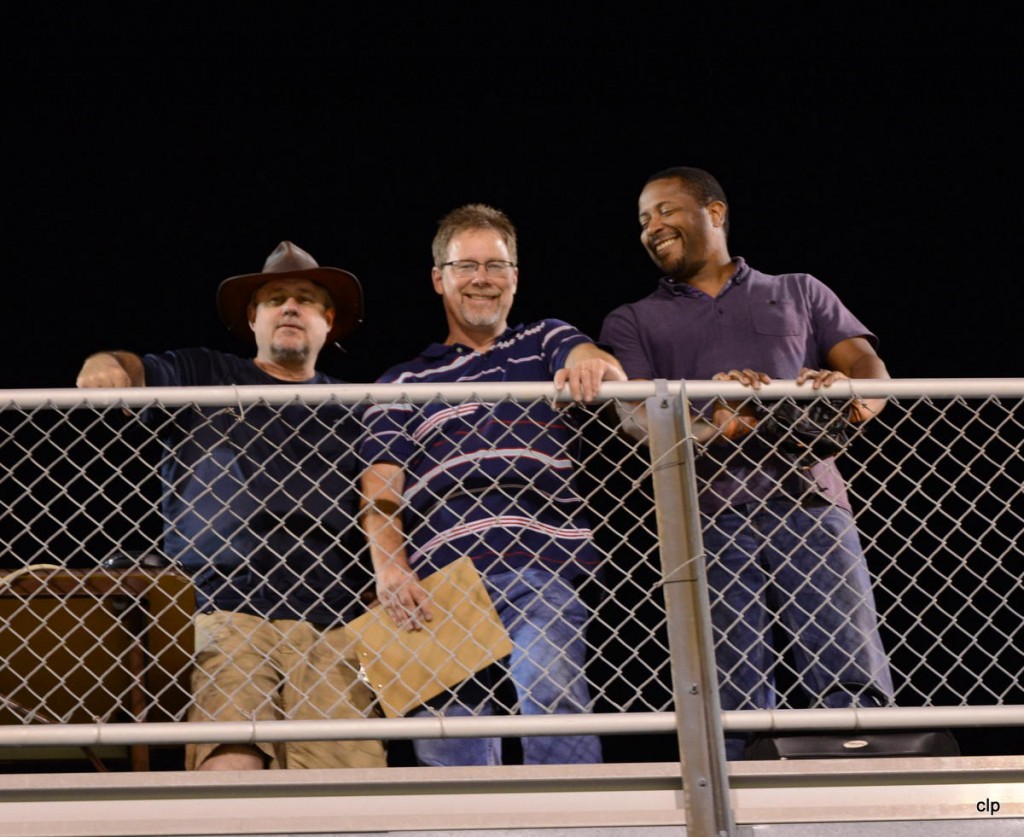 Chris Forgey
Archive of entire game: Blooming Grove vs Dawson, Friday, August 28, 2015