By Chris Forgey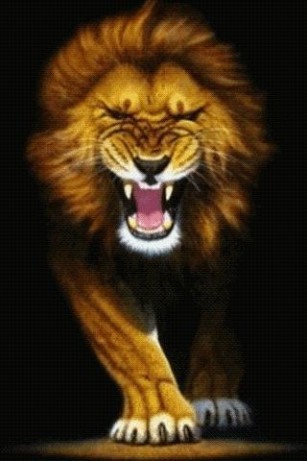 The Blooming Grove Lions took the field Friday against another football team for the first time in 2015.  However, there was no drama to be seen, no on the field heroics and no winner and loser.  The Lions participated in a scripted scrimmage with the Hubbard Jaguars at Hubbard Field in front of a mostly quiet crowd.
The scrimmage consisted of several series of 15 plays on offense and defense for both teams.  BG brought both their varsity and junior varsity giving both squads a chance to square off against the Jaguars (2A, District 10).  BG had about twice as many players since Hubbard does not have a JV squad.  Each team scored touchdowns, which got a brief rise out of the fans in attendance.  There were no extra points, punts or special teams of any kind.  However, the scrimmage did exhibit a small taste of what is to come and the opportunity to work out some kinks before the games start to count in two weeks.  The Lions are scheduled for a second scrimmage next Thursday evening, August 20th against Leon at Blooming Grove Stadium.  The time for that scrimmage has not been determined.
Coach Lawrence Williams called the evening a success.  "No one got hurt, so it was successful", replied the coach when asked what he thought of the scrimmage.
The Lions will kick off the 2015 season on Friday, August 28th, 7:30 pm, at home against Dawson.  The team is rich with experienced players as they are returning 17 seniors.  "You can't replace experience", said Coach Williams prior to the scrimmage.  Several key contributors from 2014 look to lead the Lions again this year with none of them more highly touted than Sr. Juanya Pyburn, who did not disappoint Lions fans attending the scrimmage.  Pyburn churned through the Hubbard defense on several occasions, operating mostly at running back.  Pyburn was the leading ground gainer and receiver last year as the Lions went 6-4 in the regular season, winning their final two games of the season to qualify for the playoffs.  The Lions fell to Rogers at Waco ISD Stadium in the first round of the post season, 35-13.