By Chris Forgey – correspondent to BloomingGroveTX.com
Photos cortesy Cindie Phipps – www,CindiePhipps.com
End of the Road
The nights are cold now, the season's done
It's the end of the road but what a good run!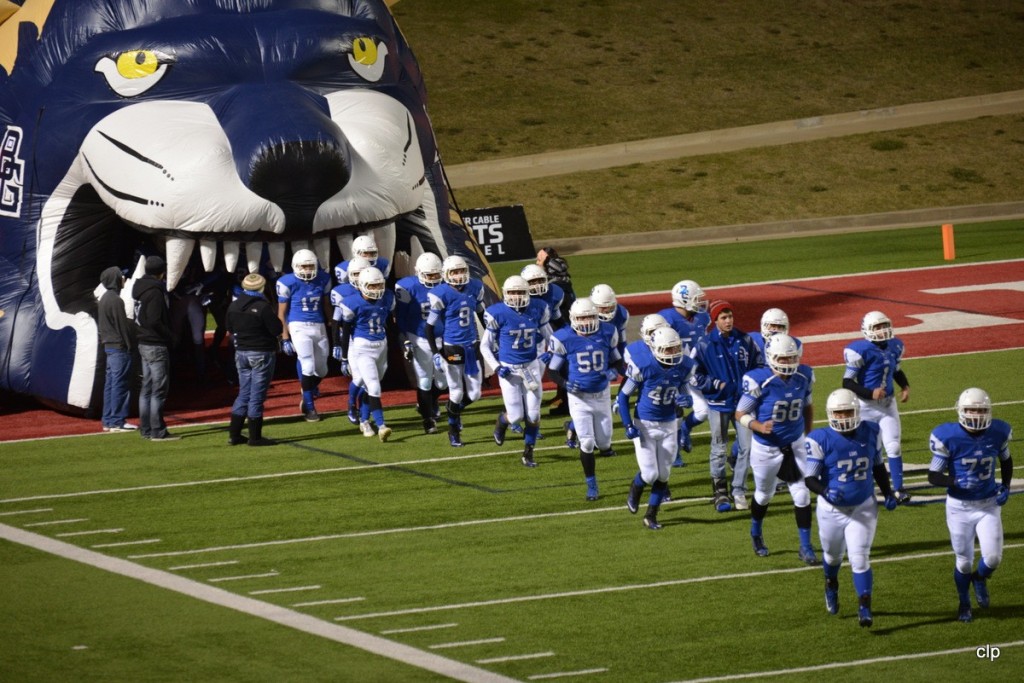 A Thursday in Waco after ten Friday nights
Touchdowns and tackles under stadium lights.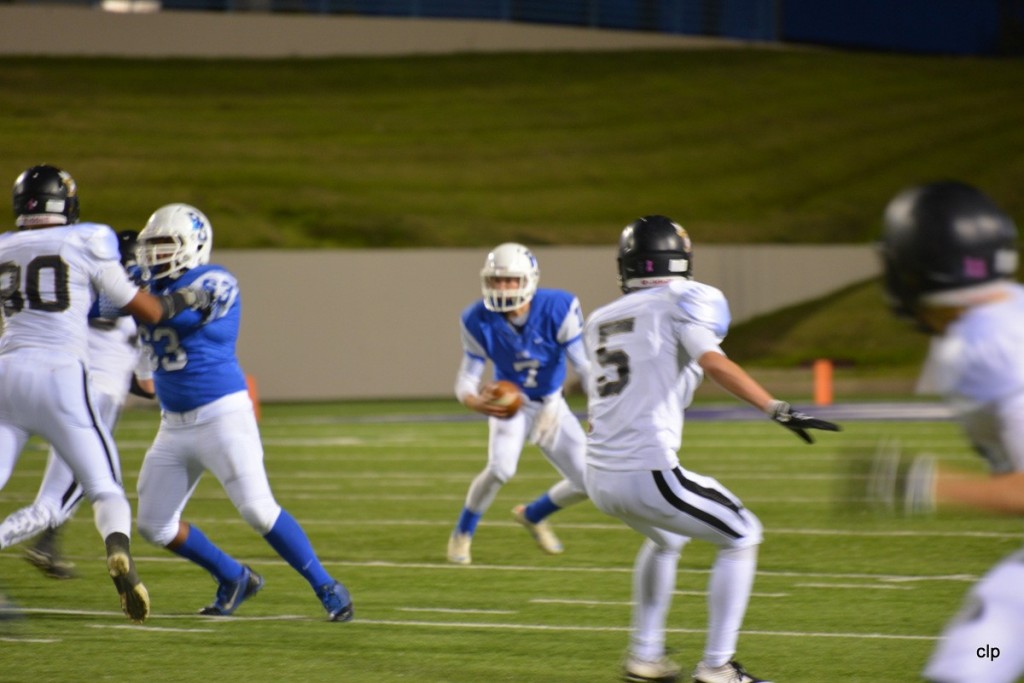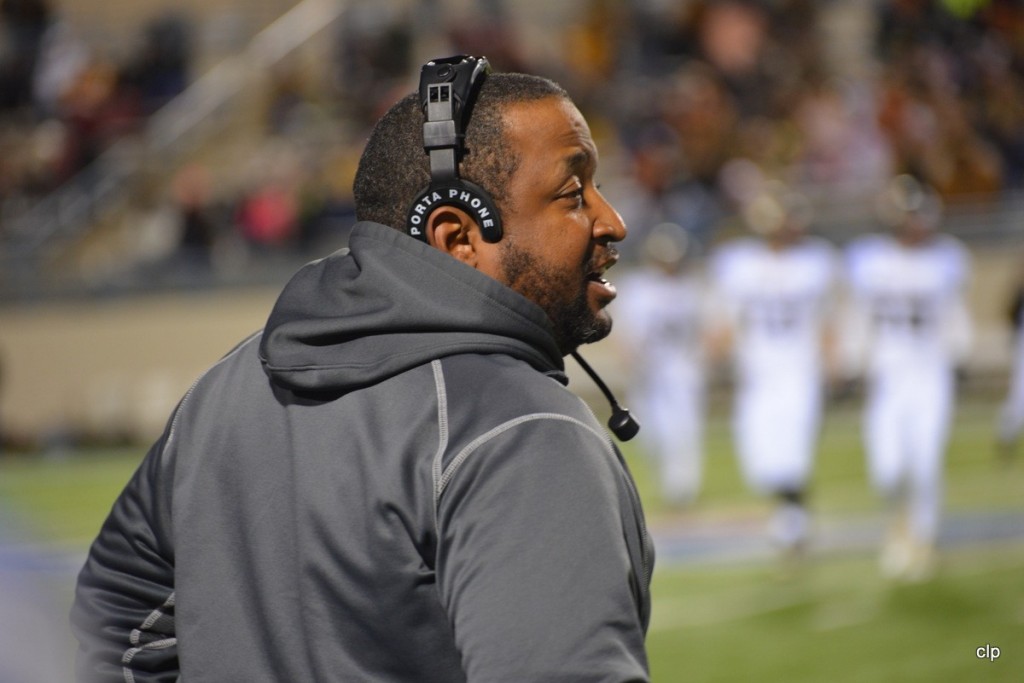 So long to the seniors who played for Big Blue
Your teammates will never forget about you.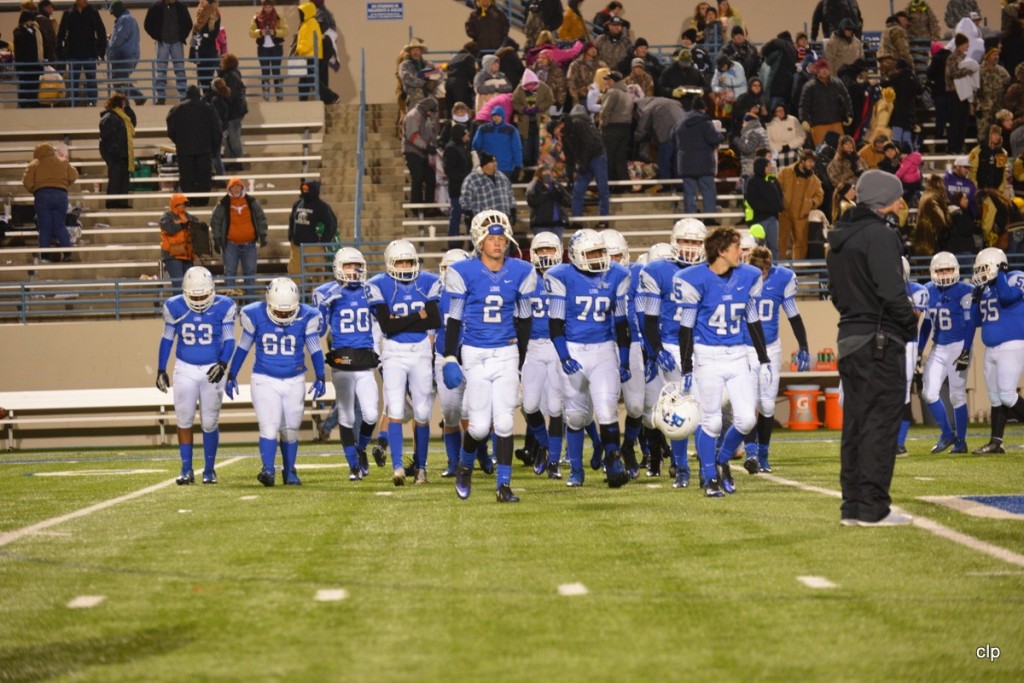 For now there's no more football to be seen
But the Lions will roar again in 2015!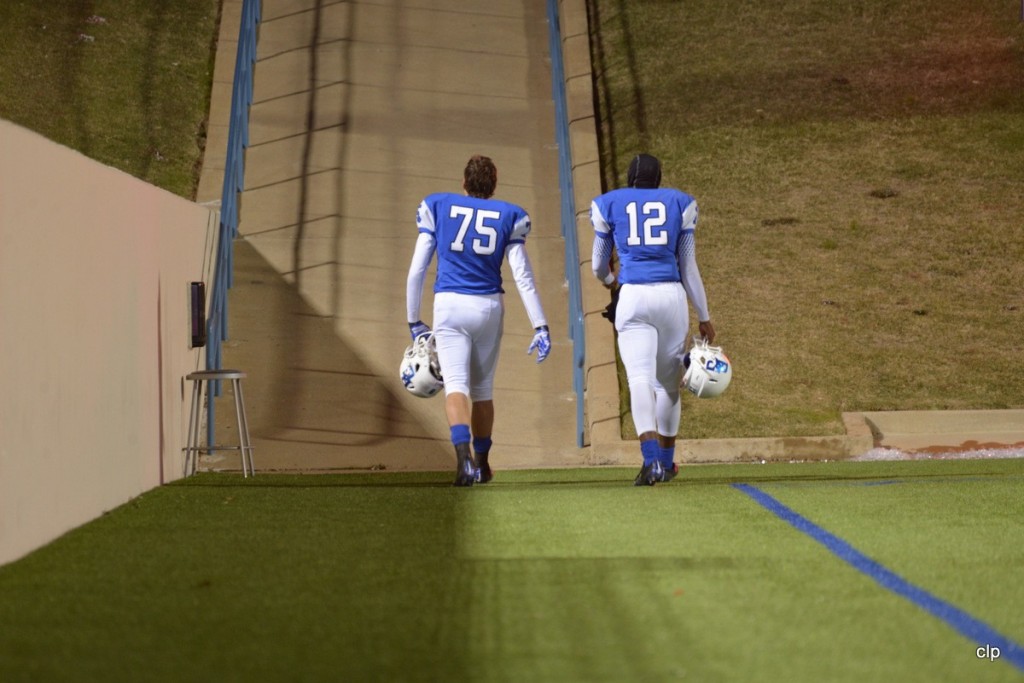 Lions' Season Ends in Playoff Loss to Rogers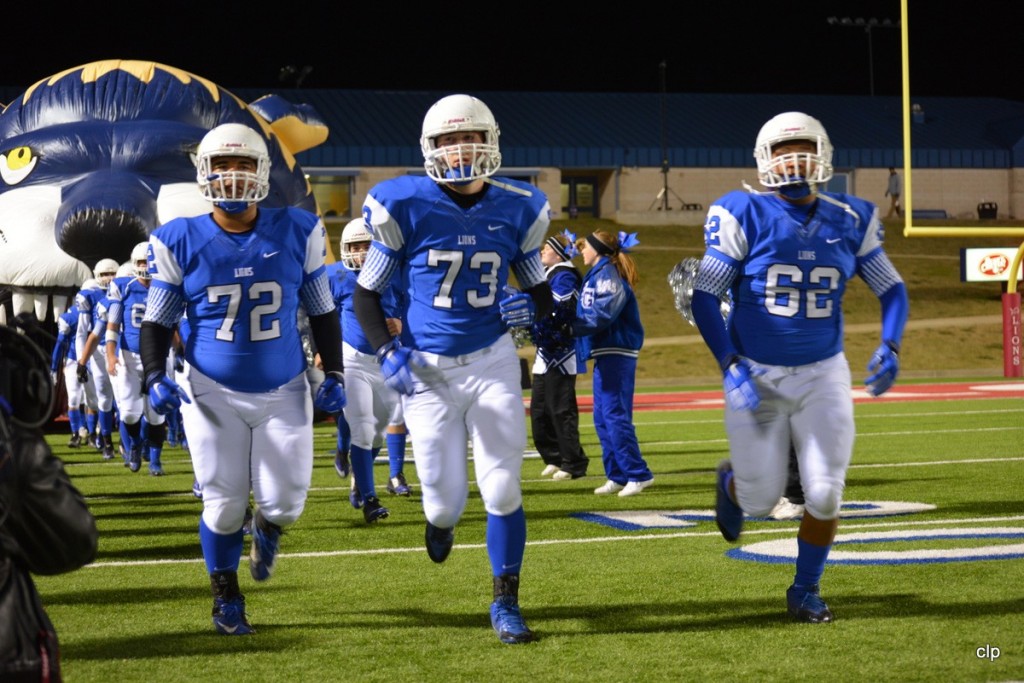 For the Blooming Grove Lions, the playoffs really started two weeks ago.  With a 4-4 record, 0-3 in district, the Lions had to beat Rio Vista on Halloween night and then defeat Rice the following week to qualify for a playoff spot.  They got it done.  Their reward was a first round playoff date with the Rogers Eagles on Thursday night at Waco ISD Stadium.  The Eagles flew into Waco on an 8-game winning streak and riding a horse by the name of Brody Malovets.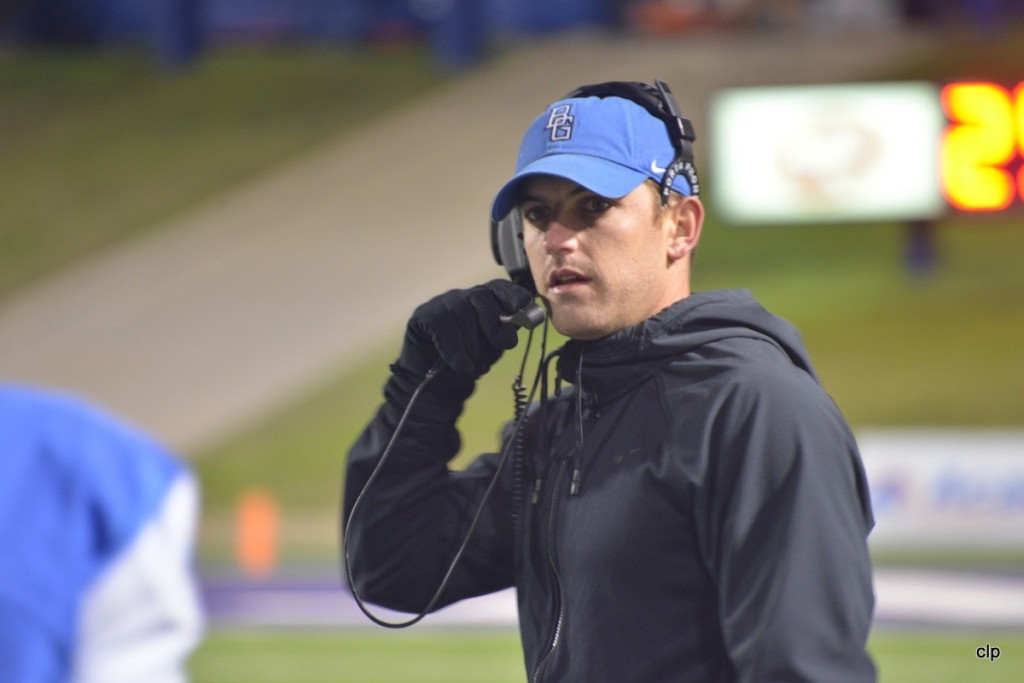 Rogers got the ball first and scored on their second play from scrimmage on an 82-yd run by Sr. Brody Malovets.  On the Lion's first offensive drive, they went 51 yards to tie the game on a 7-yd TD pass from Sr. Tyler Ellis to Jr. Tyler Baumgartner.  Score at the end of the 1st quarter was 7-7.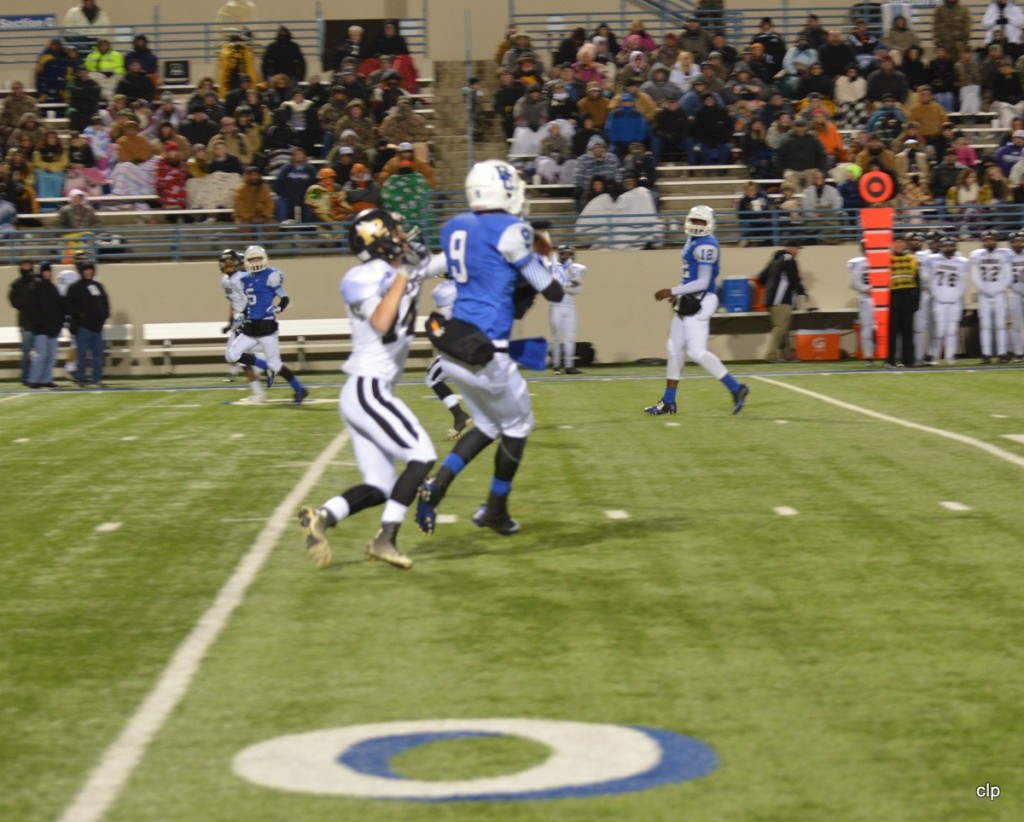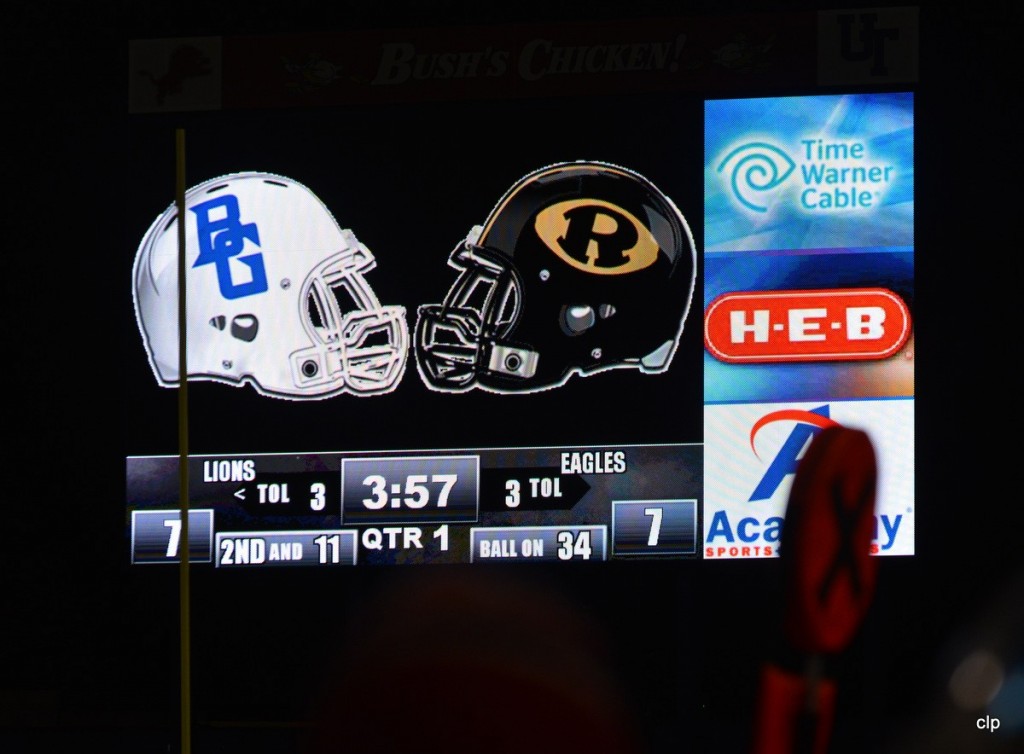 The 2nd quarter was a defensive battle with BG winning the field position war due to some poor punts by the Eagles.  The Lions started several drives with excellent field position but weren't able to capitalize until Ellis hit Jr. Juanya Pyburn on a 60-yd TD pass to give BG the lead 13-7.  Ellis' extra point attempt was no good.  The Lions took a 13-7 lead into halftime.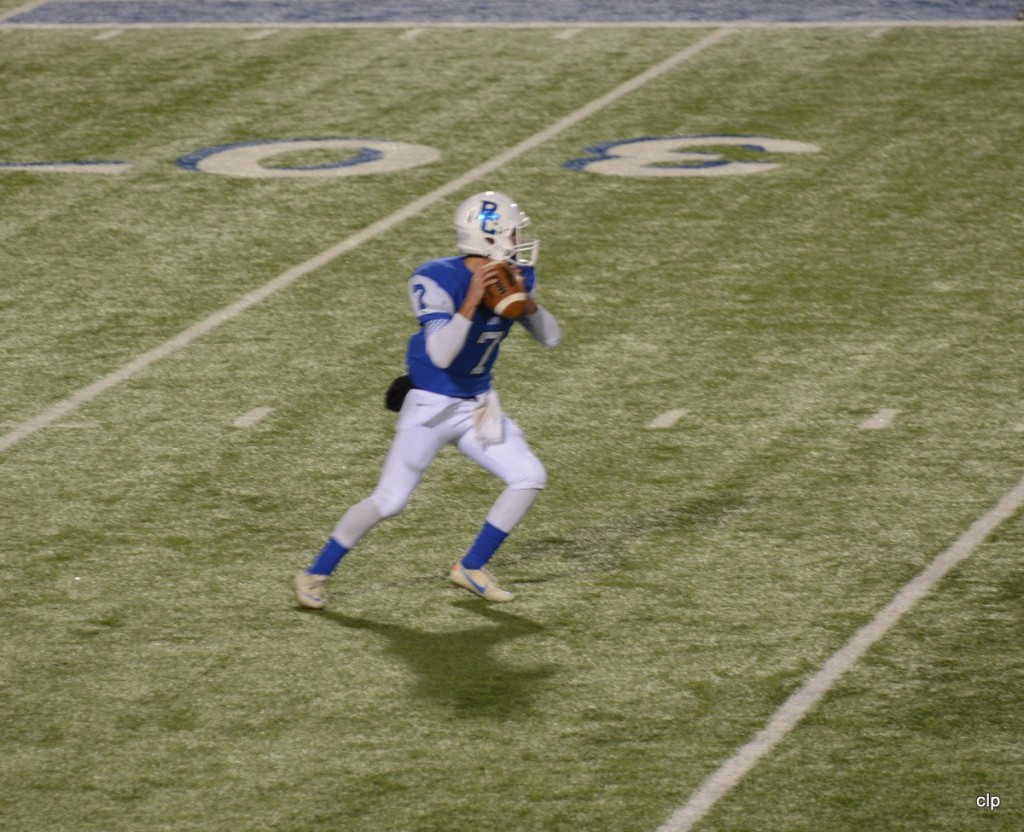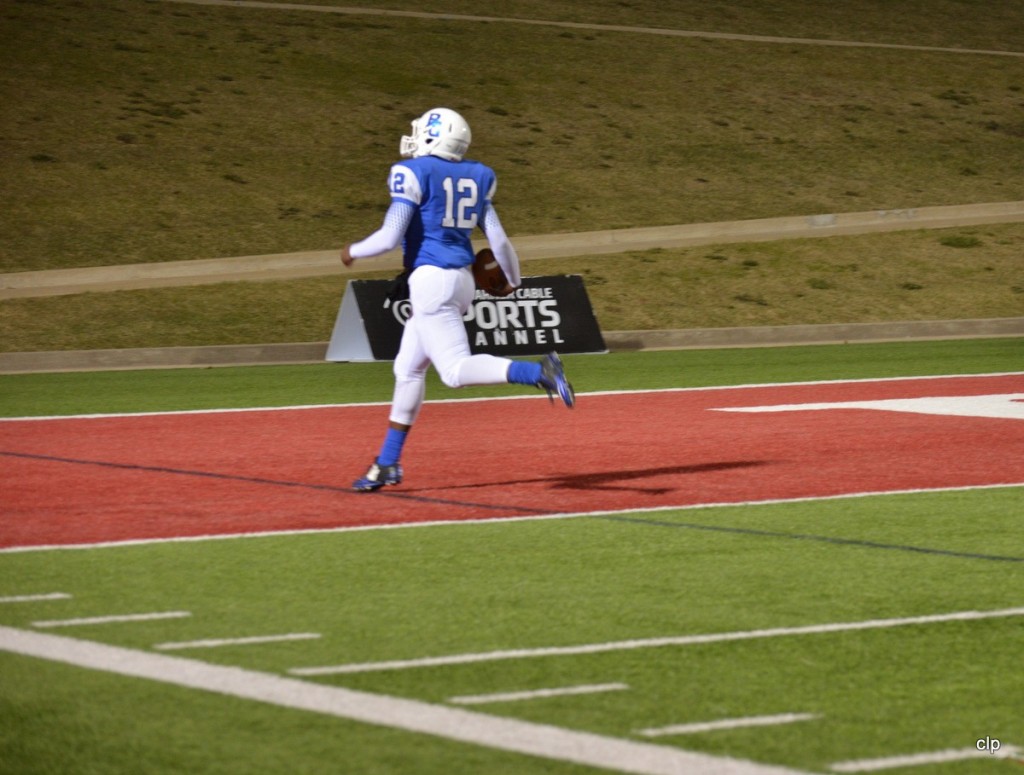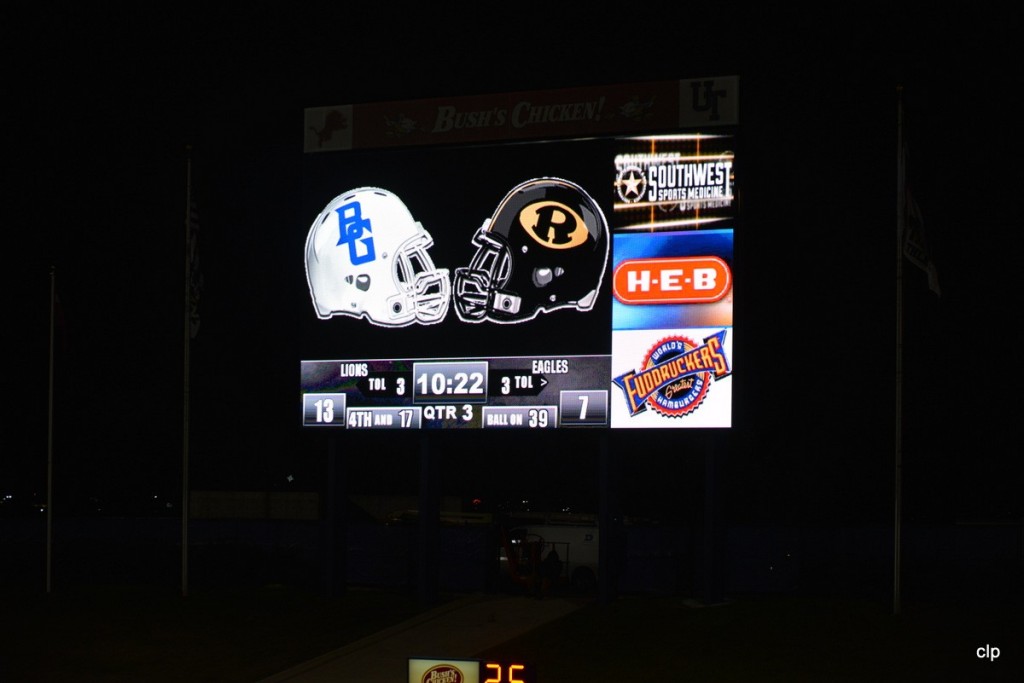 For the entire 1st half and for most of the 3rd quarter the Rogers offensive attack relied almost completely on the legs of Brody Malovets.  The Sr. RB scored on the Eagles' first offensive play of the 2nd half on a Malovets 72-yd TD run to put Rogers up 14-13.  It was all Eagles from that point on.  Big Blue wasn't able to do much on offense, stymied by an Eagles defensive bunch that gang tackled BG runners and kept Ellis under pressure.  On Rogers' second possession of the 3rd quarter Malovets had a 63-yd run to put the Eagles deep into BG territory.  Two plays later he scored his third TD of the night with a 14-yd run, making the score 21-13.  Malovets showed late in the 3rd quarter that he could also be effective with his arm when he took a P.J. Martin pitchout and completed a 30-yd pass to Sr. Dustin Blackwell.  That drive was capped with a 10-yd TD pass from Sr. QB P.J. Martin to Sr. Brandon Fisher.  Score heading into the final period was 28-13 in favor of Rogers.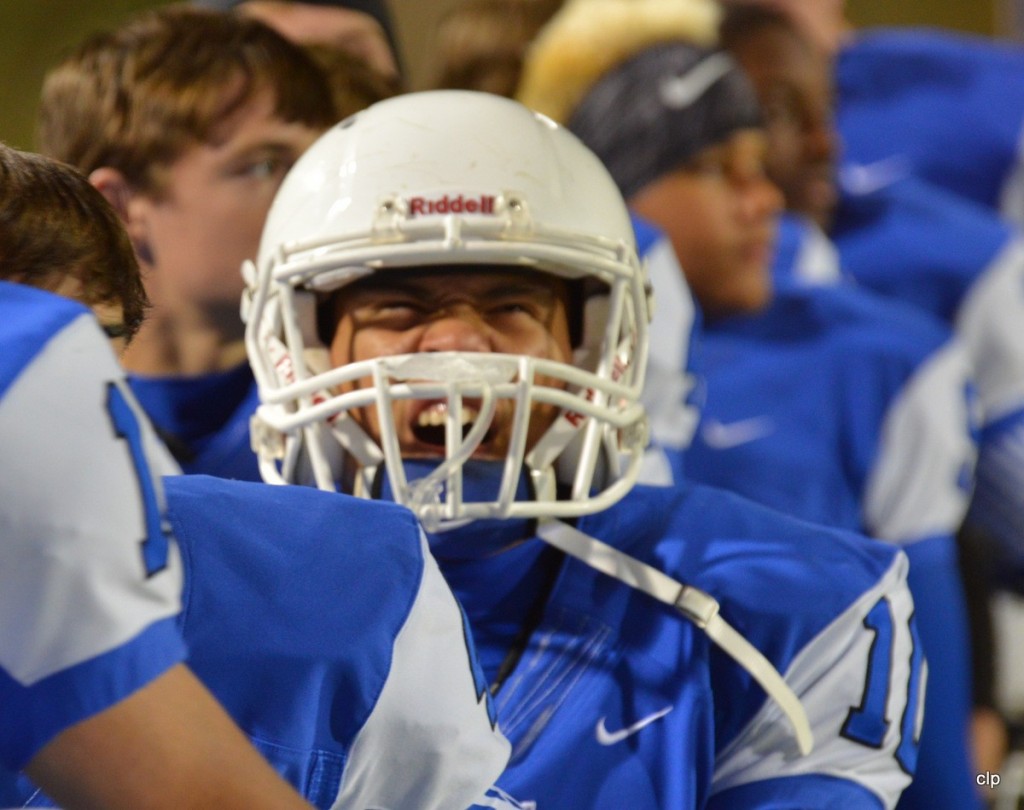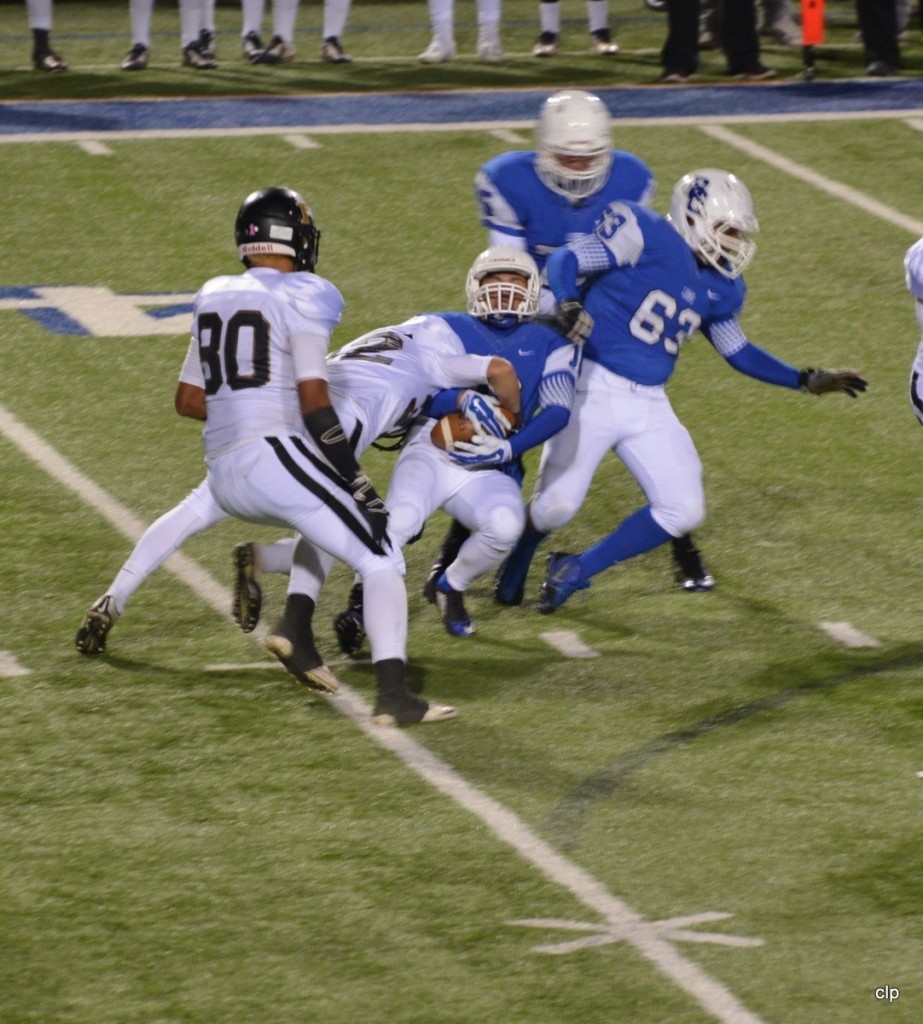 In the 4th quarter the Eagles continued to contain the BG offense.  Sr. Daniel Camarillo was held to little or no yards on the ground for much of the game.  Juanya Pyburn was mostly ineffective in the second half and appeared to be hurt after taking a couple of very hard hits by Rogers defenders.  Pyburn did not leave the game but he was uncharacteristically not much of a factor the final two periods.  Rogers scored one more TD on a P.J. Martin 1-yd run to finish out the scoring and finish out the Lions' season.  Final score of the game was 35-13.  The Rogers Eagles move on to face Corrigan-Camden in the second round of the playoffs next week.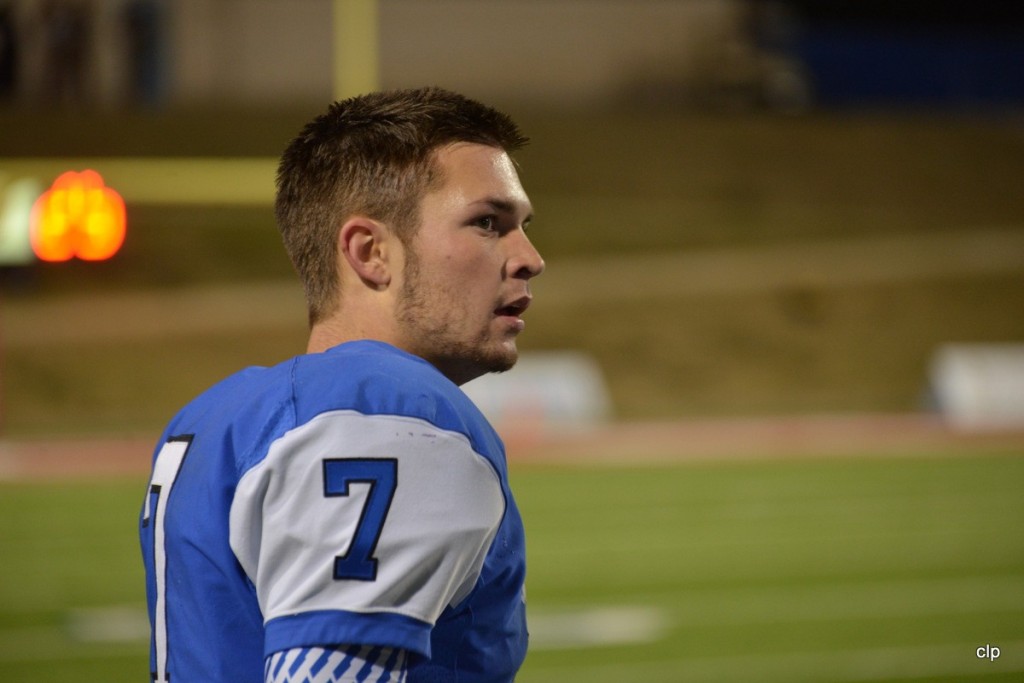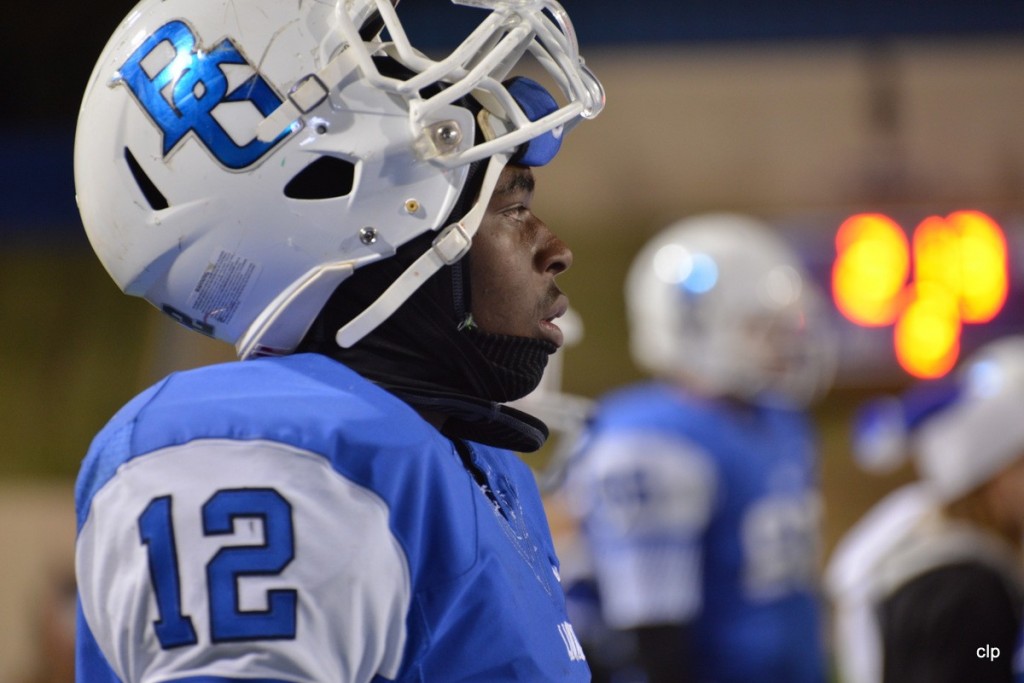 The Lions had a successful season, going 6-5 and showing enough heart the final two regular season games to put themselves in position to make the playoffs.  Coach Lawrence Williams and his staff seemed to have the players prepared each and every week.  The 22-point loss to Rogers was their biggest deficit on the season.  BG averaged just under 39 points a game and gave up an average of 25 points a game.  They provided plenty of exciting football action this year and should be proud of their efforts.  Big Blue says goodbye to 12 graduating seniors and will take the field in 2015 without the services of key contributors such as Tyler Ellis, Daniel Camarillo, Dylan Newland, Brandon Hays, David Cochran, Dalton Blake, Robert Tovar and several others.  However, the team should be strong again next year, returning with plenty of talented players, most notably Juanya Pyburn, Jarod Obenour, Tyler Baumgartner, Lane Goodwin, Landon Carpenter, Brody Owens, Jody Kirby and a host of others.